I'm in the northern part of Thailand, in a place called Chiang Mai. After creating a successful business in London, I'd taken the decision leave it in the capable hands of my business partner to fulfil a dream and ride from the UK to Australia. It's January 2012, and in the past 10 months I'd ridden through 33 countries.
And there in front of me as I pulled up to the famous Rider's Corner Bar and Restaurant for the annual Asia Horizons Unlimited meeting, thousands of miles from home, was a battered-looking Royal Enfield with British plates.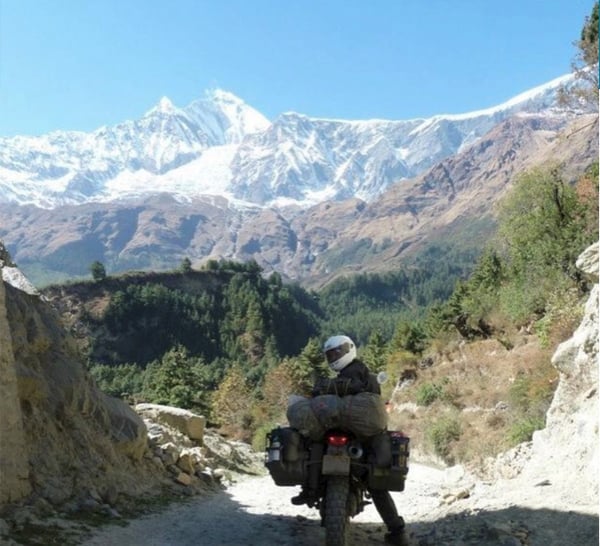 A chance meeting
So after I settled into the accommodation, I went down into the bar in search of the rider of this machine (which I discovered was called Batty), excited at the chance to meet a fellow Englishman who, like me, had ridden across a decent chunk of the world to get there. This amazing man turned out to be Harry Lyons-Smith, who I found out was also a successful business owner.
A few drinks were had as we talked business and travel. He told me that when I got back to England I should check out something called the EO – the Entrepreneurs Organisation.
When I did finally get back to London later that year, I met up with Harry again. We talked about work and he repeated his suggestion that I should look at the EO.
Honestly…?
I did – and I have to be honest, my first impression wasn't great. It seemed – and still does seem – very American, which kind of turned me off. But then I was asked to attend a training day, after meeting another EO member who like Harry seemed really switched on.
That training day changed everything for me. In that room I sat with 10 other business owners, all of us running companies turning over more than £1m. We shared experiences and we discussed problems and how to solve them. We also shared experiences on positives, such as marketing resources or technology to make business easier.
A lasting impression
I walked out of the room that day having spent the past few hours both giving and taking. I'd contributed as a problem solver and I'd had some invaluable experience shared with me in a totally and utterly confidential manner.
This was four years ago now. The Entrepreneurs Organisation has been with me throughout the doubling in size of my primary company and the founding of three other companies. EO has been there for me during tough personal times and during times of celebration.
EO has won me business from Europe, Africa, America and the Middle East. Once, I had a EO member provide me with funds to fulfil a last minute project in London, before we had even signed an agreement. This wasn't a small deal, but the trust and respect among EO members is like something I have never experienced before or after. EO isn't a networking group, EO members are closer than that.
And then some
The group has also introduced me to some of the world's most amazing entrepreneurs and all round human beings. From the founder of billion pound software company Xero where 20 of us shared breakfast hearing his amazing store of growth and got to ask him questions – to the Iron Cowboy who did 33 Iron Man events in 33 days in 33 US states.
Because of my involvement with the EO, my business community has grown enormously and I now have contacts across the world, most of them people I've met at world-wide events the group has organised.
I've been able to take what I learnt – both from running my own businesses and from other people sharing their experiences with me – and pass it on to a new generation of entrepreneurs.
And the EO has been behind me every step of the way as I've built my company into a multi-million-pound turnover group.
And none of that would have happened if I hadn't parked behind Batty that day in Chiang Mai…